TOUR KLEINFELDER'S STATE-OF-THE-ART LABORATORY IN LAS VEGAS!
Take a tour of Kleinfelder's newly renovated laboratory space in Las Vegas, where our team of experts provides top-notch construction materials engineering and testing services, as well as geotechnical testing services.
Las Vegas Lab Contact
Noelle C. Toney, PE, Engineering Manager
6280 South Valley View Blvd., Suite 500
Las Vegas, NV 89118
P: 702-736-2936
Work With Us
Our employees are the backbone of an integrated company that provides innovative, dependable, and sustainable solutions for our clients.
At Kleinfelder, we provide opportunities for each person to use their expertise and talents, grow professionally, and make an impact each and every day. We know our employees' commitment, pride, and passion contributes to the success of the company and to the successes of our clients.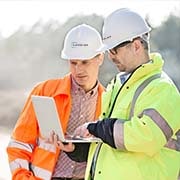 Make a difference in the industry and allow your career to progress into something greater at Kleinfelder. Our projects are challenging, our clients diverse, and your colleagues are leaders in their fields. Your continued professional growth is important to us, which is why Kleinfelder provides training and financial assistance to obtain professional registrations, supports participation in professional societies, and encourages technical paper submissions. At Kleinfelder, we maximize your career possibilities through career-challenging experiences.
Benefits
Kleinfelder employees enjoy comprehensive and competitive benefits which include important coverage for healthcare, personal finance, and general well-being. Click here to learn more.
Please note: Some positions will be required to work on projects requiring full vaccination from COVID-19, and you will be required to show proof of vaccination in order to work on the project, subject to any applicable reasonable accommodations under the American with Disabilities Act or Title VII of the Civil Rights Act.
We Are Kleinfelder
Transforming ideas and visions into award-winning projects since 1961